HOW TO TRACE LONG LOST FAMILY OR FRIENDS
How to Search For a Long Lost Friend
Steps
Putting Together an Online Search
Write down everything you know about the person you're looking for.

While you may be tempted to immediately log onto a search engine, slow down and write a "cheat sheet" on what you know about your long-lost friend.

Think about interesting details beyond name, occupation, and last city lived. Do they play any sports? Are they a member of any political organizations? What are their hobbies? What might they like to do online?
If you think your long-lost friend has changed their name, through marriage or otherwise, think about the potential city where the name change happened. In most states in the United States, someone seeking a name change has to publish a notice in the local newspaper stating that the action for a name change has been filed.You might want to include the name of such a newspaper on your "cheat sheet."

Combine these details into potential search terms.

An example would be to include the person's first name + their favorite hobby + a city they once lived in.

Think outside the box: A highly specific interest or characteristic of your friend may elicit a favorable search even if you don't know your long-lost friend's last name.

Apply your search terms to an online search.

Now that you've developed several search variations, you can turn to the search engine, Google. Enter your terms and click search.

Chances are good that you will find a social media profile connected to your long-lost friend; in 2019, almost 80% of the U.S population has a social network profile.
A social network profile for your long-lost friend may be connected to LinkedIn, Facebook, Twitter, Instagram, Pinterest, or perhaps a website less popular in the United States. (Xing has a global presence, and RenRen is prominent in China.)
If you don't have luck on Google, consider using the next three most widely used search engines: Bing, Yahoo!, and Ask..

Study the results of your search.

If your search successfully elicited evidence of your long-lost friend's existence, congratulations. If the evidence came in the form of one or more of your friend's social media profiles, you can attempt to connect to your friend through these profiles. The easiest way would be to use a platform for which you already have your own personal profile.

On LinkedIn, click Connect and/or Send InMail.
On Facebook, add the person as a friend.
On Twitter, "follow" the person. Then "tweet" at your long-lost friend by copying their user name preceded by the @ symbol, and writing a message as your Twitter status.
Trying a "Deep Dive" Search
Eliminate irrelevant results from your searches by tailoring your search terms.For example, if there's a famous sculptor with your friend's name, you can run a search like "Friend's name -sculptor."This specialization will eliminate all the results that feature the sculptor and hopefully narrow the pool to find your friend.

Search with new terms.

Perhaps your initial searches were partly or not at all successful. Hopefully there are some bits of information that you can use for additional searches.

Was there a user name that appeared to be affiliated with your friend? For example, if your friend had user name AA55 on YouTube, you might try entering your friend's name + AA55 on Google.

Go directly to personal social networks to find your friend.Facebook and LinkedIn are your best bets for such personalized searches, as members of these networks are required to present their actual identities.

Enter "Facebook People Search" on Google.

Click on the Facebook People Search link. On the rightside of the screen, you will be shown a series of search options, some of which will be more relevant to you than others. (i.e. Name, Hometown, Current City, High School, Mutual Friend, College or University, Employer) Input the information you have to see if you can locate your long-lost friend.

If you find your friend, click on Add Friend. (Do not send a message before adding the person as your friend; the message will likely appear in the person's Message Requests folder and might go unread if you are not Facebook friends.)

Type in the name of your long-lost friend's current or former employer into the search bar on LinkedIn.com.

You will be able to access a list of people who currently work or used to work for that employer. On the left hand side of the screen, you'll be given options to narrow your search. (I.e.Relationship, City, Current Company).

There is a chance that your long-lost friend is on Facebook and/or LinkedIn, but cannot be found through the search methods above. Facebook gives its users privacy options that allows them to receive friend requests only from Friends of Friends., meaning there's a possibility that you might find your long-lost friend and not be able to reach them through Facebook. LinkedIn also has options to limit contacts from strangers..

Try more expansive search services.

You may run into a dead end using the most popular search services. Fortunately, there's still hope.

Spokeo is a "deep Web" search that scours all kinds of corners of the internet that an ordinary Google or Facebook search would not uncover.You'll need the full name of your friend, their email address, their phone number, or their address. You then filter your results by location. For free, Spokeo will show the person's name, age, closest relatives, and locations where they've lived. For a fee, Spokeo will unlock information like social media profiles, photo details, previous addresses, and court and historic records.
Intelius provides a similar service.For a fee, it allows users to run a background check, do a reverse phone lookup, or find someone's email address.
Try a public records search.. If you know a state where your friend may have purchased property, or a zip code where they filed for divorce, you may be able to conduct a public records search to find your friend. Be wary of paying fees beyond those administered by the government:

Issue a Trace on WikiWorldBook.

This will produce a unique URL result for the person you are looking for which will appear in Search Engine results - you can then harness the power of the web to help find your lost friend or relative. You can find WikiWorldBook at www.wikiworldbook.com.

WikiWorldBook is not a social network; it's an online address book in which people provide self-identifying information so that they can be located.

Search obituaries.Hopefully your friend is not deceased, but you may want to search obituaries just in case. Legacy.com and Ancestry.com provide useful search terms.
Trying Offline Options
Think of long-lost friend's parents/grandparents/siblings/cousins/etc.Determine if you know or have means to contact anybody in your long-lost friend's family. This may sound obvious, but you never want to overlook the obvious on a search for a long-lost friend.

Talk to mutual friends and acquaintances.Write a list of all the people who knew your long-lost friend. Chances are you know some of these people as well. Reach out to them. Even if they don't have your long-lost friend's exact contact information, any tidbits will likely be helpful to you.

Target the towns and neighborhoods where your long-lost friend lived.

While your instinct may be to rush to the internet, you may have more success by using what you know about your friend offline. Where did you meet each other? What other towns have they lived in?

If you know their "old house" and can visit their it, you may have luck knocking on the new owner's door and explaining that you lost touch with your long-lost friend.
Another idea is to approach the next-door neighbors of your friend's old house. Maybe they know what happened to your friend.

Call organizations the friend was or might be affiliated with.If you're searching for a friend from your high school days, consider calling the high school and getting contact information for the alumni association. If it's a college friend, contact the university about alumni association details, and ask if there's a specific alumni network for any of the friends' interests. (Maybe the friend was with the school newspaper or the intramural tennis team?).

Hire a private investigator.

This option may be the last resort if you have money to spend. Through a service like the White Pages or Angie's List, search for a private investigator.

To decide if a private investigator is a good, safe fit, ask them about their experience. Also ask them if they have an office where you can find them, if they have insurance, and if they are licensed. The only states that don't require a private investigator license are Mississippi, South Dakota, Wyoming, and Colorado.
Community Q&A
Question

I am 11, and my crush moved away two years ago. I really want to track him down again. I only have his first and last name. What can I do?

wikiHow Contributor

Community Answer

Try searching for him or his parents on social media.

Question

How can I find someone using only their name and a photo?

wikiHow Contributor

Community Answer

Try looking online. If the photo is on a phone or tablet, upload it to a social media site. If it's not, take a photo of the photo and upload it that way. Try looking them up on Facebook, Twitter or Instagram, and if that doesn't work, try and ask others who may know them or go to someone to help look for them.

Question

How do I find someone if I only know where they used to live?

wikiHow Contributor

Community Answer

If you contact the present owners, they may be able to give you information.
Ask a Question
200 characters left
Include your email address to get a message when this question is answered.
Be ready to build a case. You may find fragments of helpful information through one search. Keep those fragments of information firmly in mind as you continue your work. Your job is basically to put a puzzle together, so you'll want to keep all the pieces around to see if and how they fit.
Be patient. Sometimes a simple web search is not enough. Do you know anyone else who was friendly with your long-lost friend? Enlist help!
The next time you get a friend you're close with, try to get all their phone numbers, email addresses, and as much contact information as possible to avoid running into this problem in the future.
Sometimes, people who limit their digital footprint do so for a reason: they just don't want to be found. Understand that if you're struggling to find a long-lost friend, you're probably not the only one trying and failing to find this person. Seriously consider whether your long-lost friend actually wants to be tracked down.
Video: AncestryDNA | Sisters Search for Their Long Lost Brother | Ancestry
How to Search For a Long Lost Friend images
2019 year - How to Search For a Long Lost Friend pictures
How to Search For a Long Lost Friend advise photo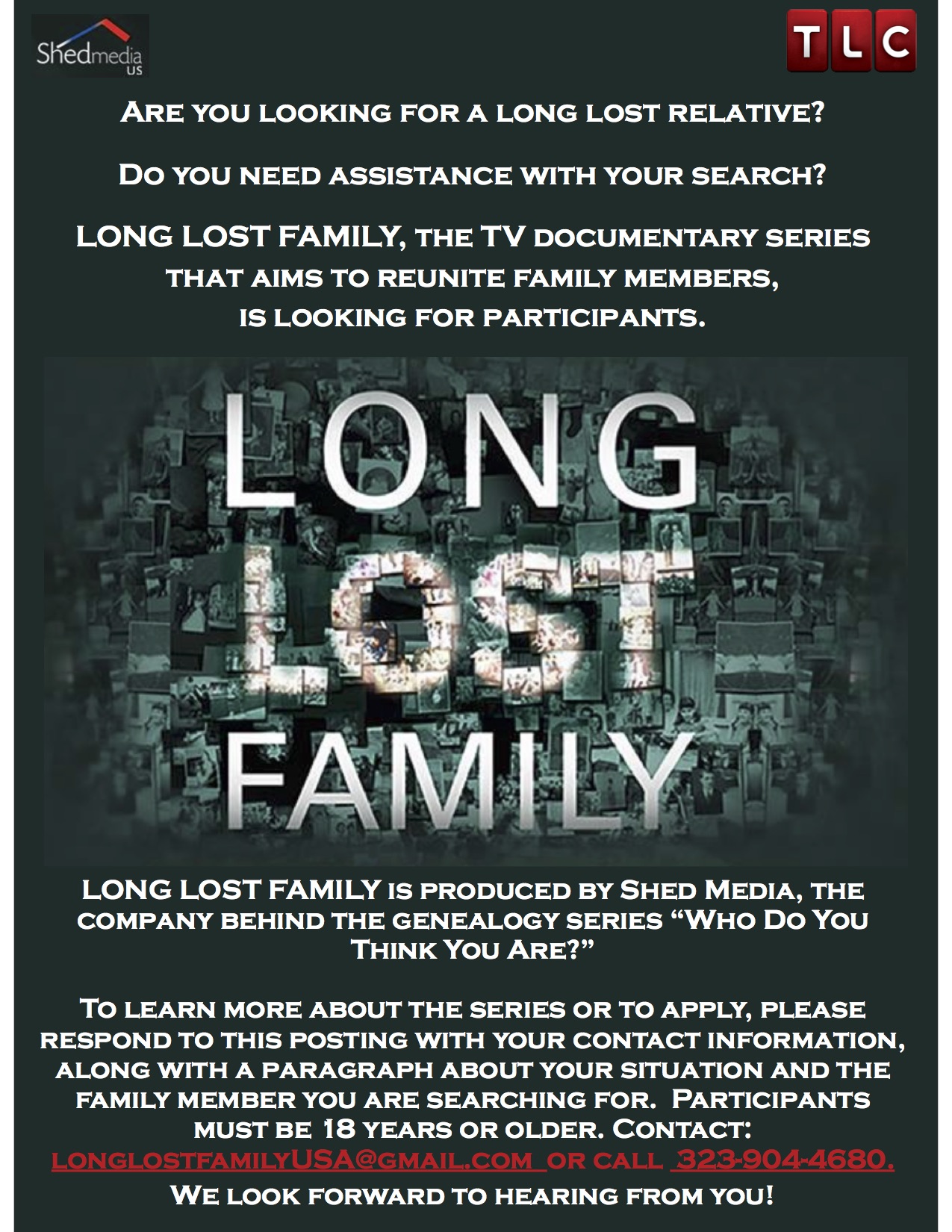 How to Search For a Long Lost Friend pictures
How to Search For a Long Lost Friend new picture
pictures How to Search For a Long Lost Friend
Watch How to Search For a Long Lost Friend video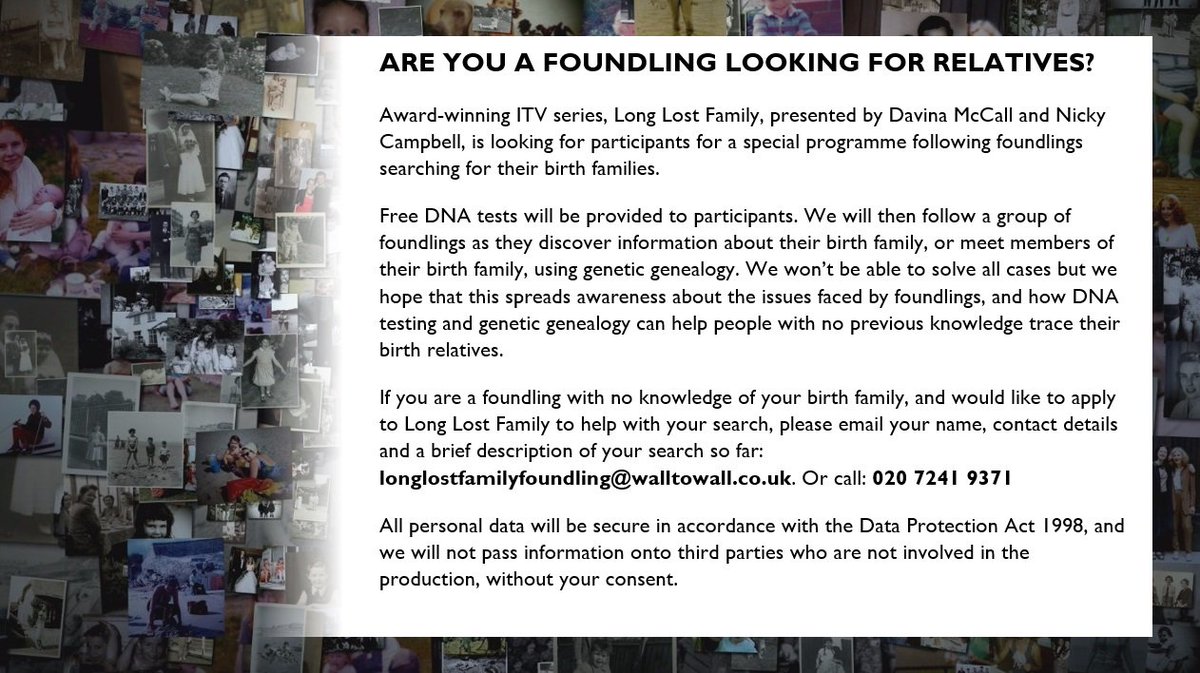 Forum on this topic: How to Search For a Long Lost , how-to-search-for-a-long-lost/ , how-to-search-for-a-long-lost/
Related News
5 Black Hair Products That Will Save Your Day
How to Become a Phone Sex Operator
TheLIST:11 Runway Trends Youll Be Wearing This Summer
How to Change a Law Through the Democratic Process
9 Vegan Myths, Debunked
How to Remove a Cyst on Your Face
Lulus Baron Cream Fuzzy Cardigan Sweater Size Medium
Here's why Courteney Cox turned down the role of Rachel Green
All that you need to know about ear infection in babies
How to Plan a Sleepover at the Last Minute
Southwestern Protein Breakfast Burrito
Date: 06.12.2018, 23:09 / Views: 54184
---